The Swiss Army Knife of Forensic Identification
Skeleton-ID is offering ID experts multiple ID methods in the same tool, which leads to much wider applicability, eliminating the limitations of DNA and fingerprints.
Problem
In many identification scenarios, the use of DNA or fingerprints is limited or not viable due to the lack of sufficient antemortem or postmortem data. Often human remains are in different stages of decomposition and photos of missing persons are the only available data.
Solution
Skeleton-ID allows the expert to use different skeleton-based identification methods depending on the available data. Artificial Intelligence is reducing the workload by allowing multiple comparisons while increasing accuracy and reducing the potential for human error.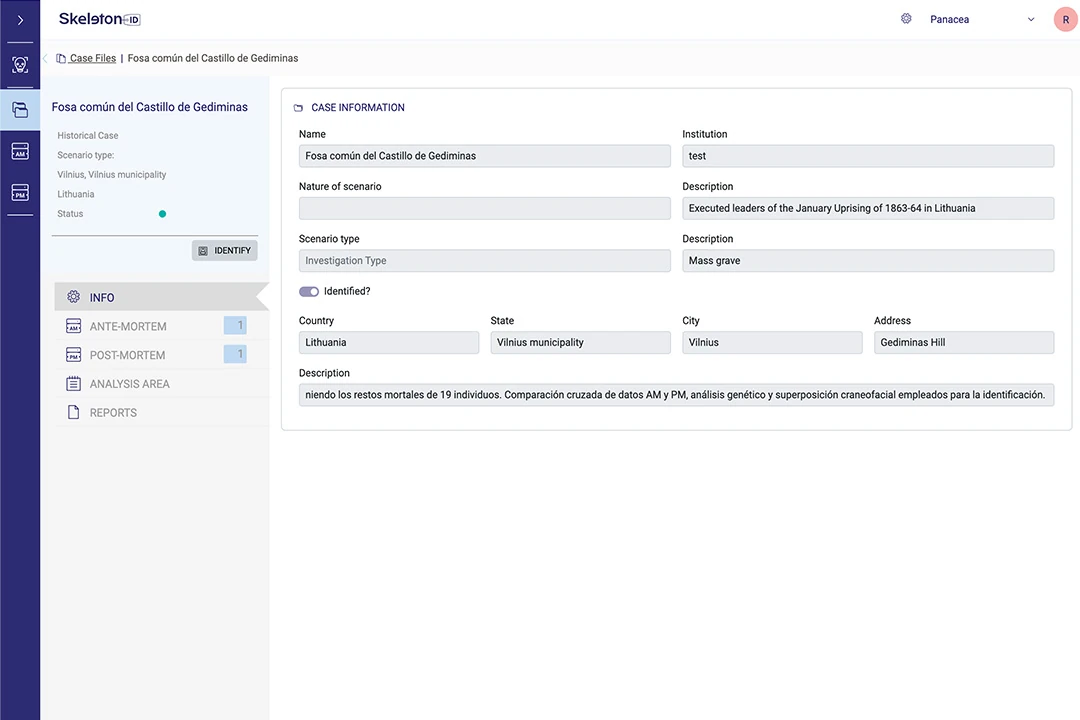 Modular Architecture
The modular architecture of Skeleton-ID, allows the ID expert to choose the identification methods depending on their identification challenges, their professional background, and the available antemortem and postmortem data.
AI automation also allows for a drastic decrease in human involvement in the comparison process, so the expert can focus on the decision-making, leading to faster and more objective results.
Available modules
Craniofacial Superimposition

Dental Comparison

Comparative Radiography

Biological Profile
Modules currently in research/under development

Facial Phenotyping

Age Estimation

Craniofacial Reconstruction
Facial Identification
For whom do we develop Skeleton-ID?
Governmental organizations
Legal medicine institutes
Police Forces
Universities
NGOs
Anthropologists
Archeologists
Facial examiners
Odontologists
Pathologists
Radiologists
Criminal investigation
Legal medicine
Research
Education
Human rights
Virtual Lab
Provides the tools to process 2D and 3D data, the correct location of cephalometric and craniometric landmarks, as well as tools for analysis and decision-making.
Image
Manipulation
The Virtual Lab includes all the necessary tools to process and analyze 2D and 3D images. It also automatically estimates the focal length of the camera and the distance at which the photo was taken to then reproduces the exact conditions of the original image.
Automatic
Landmark Location
The Virtual Lab provides tools to facilitate the precise marking of 2D and 3D anthropometric landmarks. With the help of AI, it can also automatically locate cephalometric and craniometric landmarks in 2D and 3D images.
Soft-tissue
analysis
Included studies provide data on adults and subadults of both genders, a variety of populations, and different levels of body fat. Skeleton-ID allows experts to define and modify soft tissue studies and adjust them to their specific needs.
Decision
Support System
The decision support system allows the expert to evaluate the correspondence between the AM and PM information of each case according to the identification method used. After the evaluation, a graphical representation helps the expert reach a final decision.
Ranking and Filtering
The ranking system in Skeleton-ID considers the likelihood and the relationship between AM and PM information. The result is a list of possible candidates, starting with the most likely candidate. This is especially important in large-scale scenarios where a large number of comparisons need to be made.
Identification Reports
Skeleton-ID allows the expert to export identification reports that demonstrate the entire identification process. The expert can include screenshots and additional text. Reports can be adjusted to the individual requirements of the institution using Skeleton-ID.
Case Studies
Skeleton-ID is used by legal medicine institutions, police forces, and universities around the world. It is a reliable and effective tool for skeleton-based identification.
Take a look at our case studies to learn more about how Skeleton-ID is used in different scenarios.
Scientific validation
Our research team consists of recognized experts in the field of AI and forensic science and has over 15 years of experience in the field of human identification. Our team has over 100 peer-reviewed publications and recently published the "Handbook on Craniofacial Superimposition".

Skeleton-ID´s precision has been proven in various international validation studies.

Technical Requirements
Server
Skeleton-ID uses a client/server architecture. That means a lot of the computation is done on the server. Skeleton-ID uses Linux as its operating system and can run on dedicated server hardware or virtual machines.
Workstations
Workstations/access PCs must have a quad-core CPU and dedicated graphics card to provide a smooth working experience. Users can access Skeleton-ID using Windows, OSX, or Linux computers through the Google Chrome web browser.
3D Scanners
Skeleton-ID works with 3D images but uses standard files, so 3D images can be obtained from a number of different devices: medical scanners, portable 3D scanners, and photogrammetry systems.