Educating the next generation of forensic experts
We believe that it is essential to give the next generation access to the best technology and so they can leave their mark on the world.
Skeleton-based identification
Even though DNA profiling and automated fingerprint ID software are widely available, there is a considerable number of cases in which human remains can not be identified with these techniques.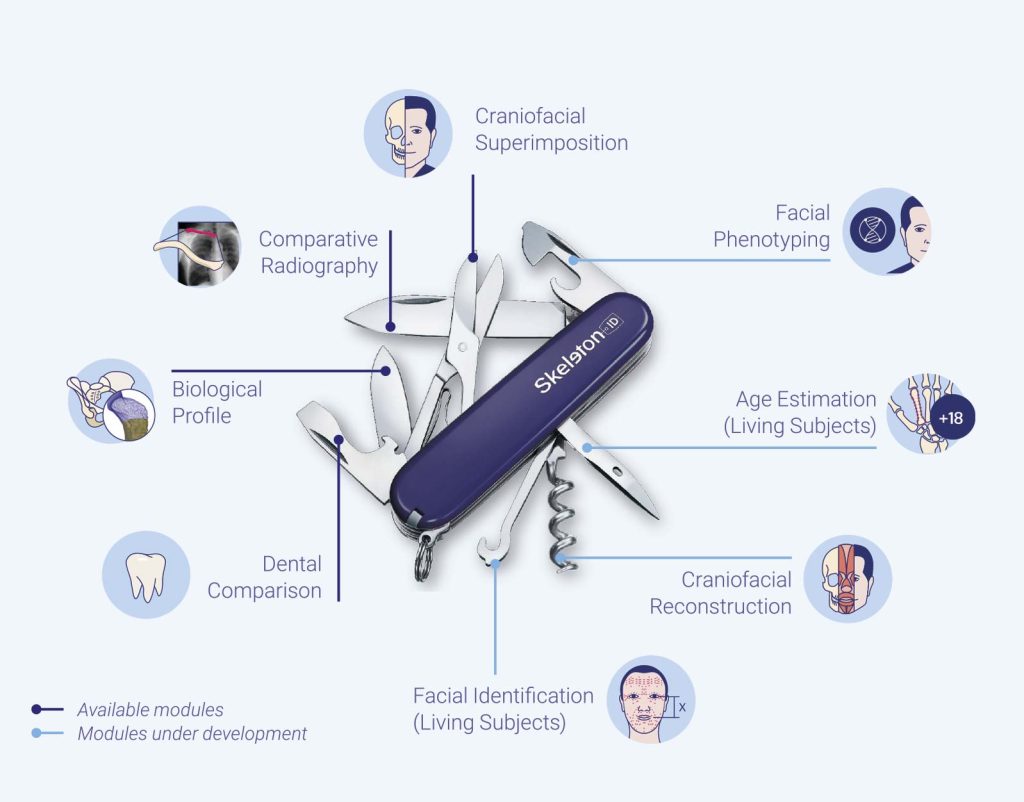 Skeleton-based ID, which is especially suited for badly preserved cadavers (burnt, putrefied, skeletonized) and represents 40 to 50% of bodies subjected to autopsy.
Advantages of
For Everyone
Teaching the future of skeleton-based identification
Less subjectivity
Higher accuracy
Time and cost savings
5 methods included: Craniofacial Superimposition, Biological Profile, Dental Comparison, Facial Comparison and Radiographic Comparison
For Educators
Ready-to-use educational material
Verified science: more than 100 peer-reviewed publications
Real ID cases with permission to be used in education
Innovative working methodology
Higher motivated students
For Students
Application of real forensic identification methods
Theoretical-practical approach that improves comprehension and learning
Development of critical expertise through the analysis and simulation of real cases.
Perception of innovation as a necessary and scientific engine
Please fill out the following form and we will be in touch
Training and certification
As with all tools that provide solutions to complex problems, using them correctly requires knowledge and practice. We have compiled a complete training and certification program to give experts reassurance and help them acquire the necessary skills.
Dr. Inmaculada Alemán Aguilera
Coordinator of the Master's Degree in Physical and Forensic Anthropology
"Skeleton-ID Academy has brought extra interactivity, innovation and dynamism to my classes, increasing my students' interest, motivation and commitment to their learning. An avant-garde educational advance with direct application in the real world."
Who is using Skeleton-ID?